Kristin and I are allies. We fully support equal rights across the board for members of the LGBTQ community. We're proud of this fact, and are happy to announce it publicly.
Our hearts go out to everyone affected by the tragedy in Orlando. Without injecting any unneeded politicality into this post, our sincere hope is that out of this horrific incident a better, more caring, and more conscientious culture emerges. We don't know exactly how that would manifest, but our hope is that we never see an incident like this ever again, and that we take the steps toward that goal.
One of the best things to do, in our estimation, is to seek connectivity where it may not have existed before. With that in mind, I was proud to attend an event last night called Pride in Energy, co-hosted by the Colorado Petroleum Council (the Colorado outpost of the American Petroleum Institute) and One Colorado.
That's an aggressively crappy picture of the screen from the event, but I didn't want to disturb the panel of speakers who told their stories of being in the LGBTQ community (or being an LGBTQ ally) while working in oil and gas. What was so striking about their stories was that to some extent they all experienced the fear of revealing their true selves to their colleagues in an industry that stereotypically values toughness, traditional notions of masculinity, and leans very conservative. Much to their surprise, what they encountered (more often than not) was not anger or disgust, but welcoming and happiness that their colleague whom they liked, felt comfortable enough to fully be themselves. Their coming out stories were inspirational for how – and I don't want to seem like I'm downplaying the courage it took to do this or the personal significance of the reveal because I'm very much not – pedestrian they were.
Unless you're a truly and fully narrow-minded, bigoted, and ideologically entrenched psycho (and some do exist), finding out that your friend and colleague is gay (or bisexual or transgendered) shouldn't be a big deal. In an ideal world, all coming out stories will end with the person receiving the news being nonplussed by it. That would mean we've achieved equality and that sexual orientation is no longer A THING. It's just a thing.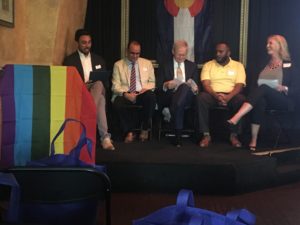 I'm thrilled that the folks onstage in the photo above are willing to push us in that direction in a space that hasn't seen much of this type of thing historically. To create real change, it almost always starts with a brave few before you can build critical mass. Those folks above are the brave few, and I'm just happy to play a small role in helping to build critical mass.
As the panel concluded, a question was asked about the future of both LGBTQ rights and the oil and gas industry. I'll offer my response. Oil and gas issues are almost associated with Republicans. LGBTQ rights issues are almost always associated with Democrats. It's convenient to think of the world in binary terms. I hate binary. I like complexity. I like creativity. I like unpredictability.
LGBTQ rights and the continued responsible production of American oil and natural gas are two issues that don't often intersect for us, but are two issues we care deeply about. It's a thrill to see them come together last night, and I applaud both the Colorado Petroleum Council and One Colorado for making that connection happen through Pride in Energy.
Here's hoping for more creative connections going forward. For blowing up boring binaries. For increased understanding from people on both sides of any issue. And for the courage to continue pushing our culture forward in new, interesting, and beneficial ways.
Save
Save
Save
Save
Save
Save